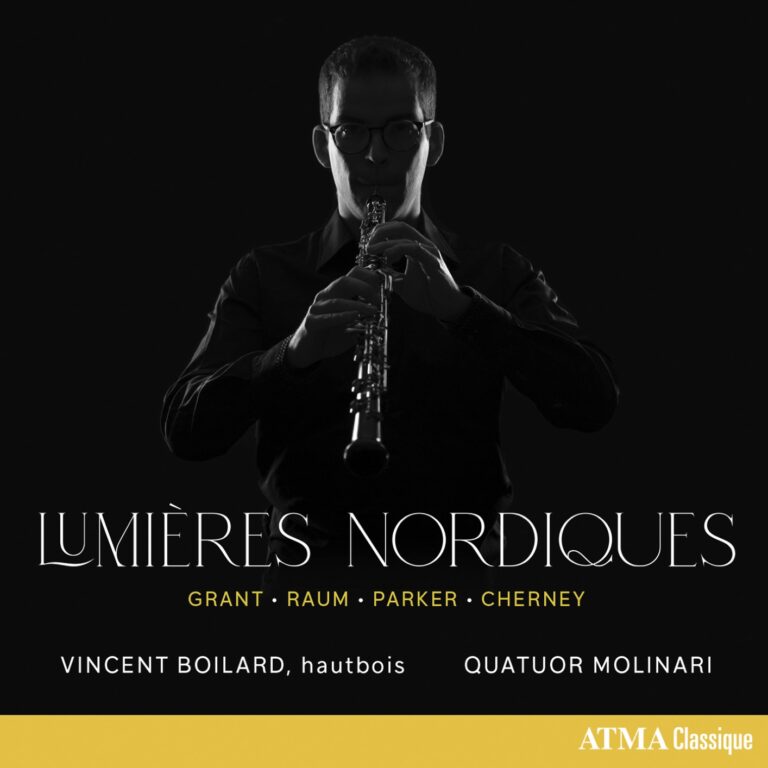 Lumières nordiques – Vincent Boilard/Quatuor Molinari
Canadian oboist Vincent Boilard displays the works of 21st Century Canadian composers in his first solo album. He is joined by Quatuor Molinari who are an internationally acclaimed string quartet passionate about playing 20th and 21st century compositions.
The album opens with Stewart Grant's Serenata de Camera. This refreshingly original work sets the tone for the rest of this compelling album. Grant combines fun dance-like polyrhythms with an appealing harmonic language. The music is written with an evident understanding of the capabilities of the oboe with Grant being an oboist himself. Quatuor Molinari come across as four highly individual virtuosi in this work.
Vincent Boilard demonstrates an impressive agility in the top register in Elizabeth Raum's Searching for Sophia. This work is an intriguing hybrid of Western and Eastern sounds. The composer, also an oboist, reimagines the melodies her Syrian grandmother used to sing to her as a child. Raum uses modes typically associated with Middle Eastern music to bring this across. The music is accompanied by a poem written by the composer to demonstrate the intended emotions behind the piece.
Michael Parker wrote Requiem Parentibus as a tribute to his father after his sudden death. The first movement conveys his feeling of confusion and despair at the shock. A particularly poignant moment comes at the beginning of the second movement. The solo oboe line has a strong sense of isolation and yearning which Boilard brings across exquisitely. The final movement is incredibly introspective and has a funereal feeling.
The album finishes with Brian Cherney's In the Stillness of the Summer Wind. This is a fine example of Cherney's woodwind chamber music. The work is instantly attractive and makes the listener feel like they are waking up from a dream.
Charlotte Soerland – Howarth of London