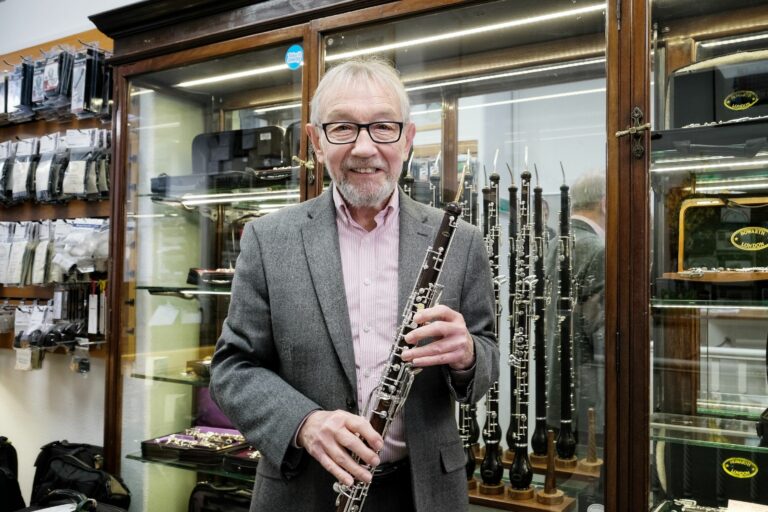 Reflections with Michael Britton –
George Caird
George continues our celebration of Michael's 80th birthday.
There is certainly no stopping Michael Britton and his wife Hilary. I met them on a sunny day at the end of July in the Wallace Collection restaurant, to reflect on Michael's recent 80th birthday and on all his years as an oboist and working with oboists. It turned out that he and Hilary had arrived back from Singapore the night before having also attended the IDRS conference in Bangkok, and this on the end of a highly busy year of work in London and around the world. There was no sign of tiredness and our conversation, inspired by the paintings of Boucher and Fragonard that we had passed on our way in, was nicely aided by lunch.
Knowing that DRN has already captured Michael's long career in music, I was keen to build on this by asking him about his thoughts on the oboe, its development today and all the great music that has been written for it. Michael is very proud to have been so closely involved with the development of the Howarth range of instruments over the years – the only company that makes a full range of models from beginner to professional – and feels that the high quality achieved has helped contribute to an overall improvement in all makes of oboe.
Of course, Michael adds that although good oboes make life easier for players, where would we be without a good oboe reed? 'The developments have been extraordinary. When we think back to the 1960s when Harry Baker was a director of Howarth and tying on reeds using his simple "spinning machine", the materials and the methods were rudimentary compared with now.' In the 60s when gouging machines became available, Michael bought his first machine from Michael Winfield's father, a former Rolls Royce engineer. Later he acquired a Kunibert Michel, a machine that many of us oboists bought from 1970 onwards. Then in the late 70s the profile machines became available; Michael drove to Germany to purchase a Michel profiler with a Lothar Koch template and, shortly after, a Rieger which he later sold to Peter Wiggins. Peter was, Michael thinks, the first full-time reed maker in the UK after Harry Baker and he was always looking for improvements. Since his early days in the 1970s, countless other reed makers have emerged and made innovations.
For Michael, some of the most remarkable innovations in the mass market have been through Ke-Xun Ge who has developed an international reed-making and associated products business. Ke-Xun was granted a scholarship to study the oboe in London at the Guildhall and, like most students, was short of funds. But he was a good reed maker. Anthony Camden brought him into Howarth and Michael provided him with 100 pieces of cane and staples to see what he could achieve. In the space of two days these came back as perfectly straight and fine reeds that sold out in hours! Over the years Michael discussed many ideas with Ke-Xun and so helped in the launch of the phenomenon of KG Reeds.
Michael is positive and hopeful on the subject of synthetic reeds. There are fibre reeds that are becoming more reliable and sensitive to the player. It is only a matter of time, he thinks, before these will be used regularly by some players in place of the cane reed, particularly doublers, for practising and for some actual performing. Michael is still in touch with Ke-Xun who is working on the production of improved synthetic fibre reeds. The latest KG models that Michael tested at IDRS Bangkok were definitely improvements on earlier synthetic reeds, especially the cor anglais reeds.
Michael has been a lifelong follower of orchestras and orchestral playing. During his years at Howarth, he had the chance to attend countless concerts in the UK and abroad, and to enjoy and compare the different traditions and approaches of orchestras and their individual players: the British orchestras of course, but also American orchestras and those from across Europe and further afield. Conductors have also been an interest for Michael and on this occasion the early recordings of Fritz Reiner were cited giving rise to an extended discussion on the great Carlos Kleiber and the influence on him of his father, Erich.
Michael's particular interest in the Berlin Philharmonic Orchestra enables him to speak with authority on the different periods over the past sixty years, from Karajan in the 1960s and 1970s to Simon Rattle, and now Kirill Petrenko. Always producing highly distinctive and original performances, he has noticed how the orchestra has become more and more refined over the years. As an example, he cited Herbert Blomstedt's concert (Beethoven 3 and Schubert 3) that he recently attended in Berlin as an example. Our conversation fondly remembered the great playing of Lothar Koch in the days of Karajan and then the era of Hansjörg Schellenberger, whilst agreeing that today's oboists, Albrecht Mayer and Jonathan Kelly, Christoph Hartmann, Andreas Wittmann with Dominik Wollenweber on cor anglais are truly extraordinary.
In thinking about British orchestras, Michael was quick to mention memorable players such as Derek Wickens (RPO and Royal Opera House): the power of his playing but also the delicacy of his articulation, and his ability to turn a phrase so magically. 'What has changed over the years?' I asked, and Michael pointed to the fullness of sound now produced, the exceptional technical accomplishment, and the wonderful ability to produce blended playing within our wind sections. 'In the past many leading players began in orchestras outside London and later came to the capital; now, many stay where they began for economic reasons, making our provincial orchestras ever-stronger and giving London orchestras a challenge to attract the most experienced players.'
In Michael's time at Howarth, the 'three tenors of the oboe' (Roy Carter, Gordon Hunt and David Theodore) came in for special mention for possessing highly distinctive voices on the oboe whilst representing what UK players are capable of doing. Our discussion also took in American oboists. Michael recalled his times with Philadelphia's Richard Woodhams and being shown the great Marcel Tabuteau's teaching room at the Curtis Institute. Ray Still of Chicago and Joseph Robinson of the New York Philharmonic came in for special mention as well as John de Lancie whom Michael remembers praising the English oboe thumb plate system. Today, Michael has many special friendships with American oboists, not least with Elaine Douvas of the Metropolitan Opera who visited London earlier this year, and who has recorded with our own Emily Pailthorpe.
Overall, the distinctive sound of traditional British oboe playing of former years and the tone and flexibility that went with it was a theme that Michael kept returning to. This sound, he thought, had to do with the instrument but particularly the reeds.
Many British players have retained this elegance of sound and they tend to play on much lighter reeds than in Europe. Trying European players' reeds over the years, Michael has often found he could not produce a sound, and yet players play so beautifully on them! He seldom had this problem with British players' reeds. There seems to be an idea that you cannot produce a big sound with a lighter reed, he says. And yet even in a modern concert hall he has never found British players' sounds not carrying to the back of the hall.
Whilst showing natural loyalty to Howarth, Michael's knowledge and respect for other oboe makers is apparent when he talks about how the instrument is evolving: we spoke of Lorée, Marigaux, Rigoutat, Kreul (his first instrument), Püchner and many more. The use of modern computer-aided equipment has helped produce a consistent quality of instrument and he talks with pride of what is being achieved by instrument designers and makers, whilst also revelling in the work of the players whose musical needs drive this process.
I was interested to hear about performances that stand out for Michael over time. He said he hardly knew where to start! Having attended about 40 IDRS conferences and many smaller double reed the bassoon, he has heard a particularly wide range of concertos and recitals. He also has a very large collection of CDs. many of which have been given to him by the players themselves and are not always available on other media. Some outstanding performances he recalls are Alex Klein's first recital after overcoming his focal dystonia, where he played Bach organ works that he had arranged, Chris Blake's Temporal Variations (Britten arr. Colin Matthews with string orchestra) putting a new light on the work, the Zelenka sonatas with Holliger and Bourgue, Katherine Needleman's SIx Etudes by Silvestrini from memory at the IDRS Conference in Granada, David Theodore's Vaughan Williams Concerto recording which perfectly exemplifies the work in Michael's eyes, Thomas Hutchinson playing the Berio Sequenza from memory at the ARD competition in Munich, many concerts at the Wigmore with Nick Daniel playing yet another new work written for him, a performance of the Strauss Concerto by Gordon Hunt (Michael can't remember where but which Gordon told him afterwards was the 67th time he had performed it!). In addition, his hero, Lothar Koch, not in a concert but in a masterclass over three days in Stockholm when, without once picking up the oboe, he brilliantly demonstrated on the piano his ideas on oboe playing and teaching skills. And another wonderful masterclass in Paris with Jacques Tys and David Walter together for a day, which worked brilliantly, much to Michael's surprise.
This brought us to the subject of masterclasses. Michael commented that the young students of today have so many more opportunities than in the past to hear and learn from great teachers and players round the world. Masterclasses have become so much more common in the music colleges and at all the conferences; and one of the few advantages of Covid was the amazing growth of online recitals, classes and lectures. Michael is surprisingly up-to-date with all these things and is most grateful to all those who posted such interesting content during lockdown. He says it helped keep him going!
Another interesting area we spoke about was the growth and development of oboe competitions. Michael has attended most of the Barbirolli competitions since inception, IDRS Gillet competitions and, more recently, the renowned ARD Competition in Munich. He is now planning to go to the Sony competition in Japan this October. He tells me that 280 players applied from 28 countries; though he is relieved he will only be listening to the second-round players, not all 231!
Michael and Hilary find competitions an interesting way to listen to up-and-coming players from around the world including the development of Asian oboe players now reflected in the number of applicants for the Sony Competition. Howarth were very pleased this year to sponsor Inoke Isobe from Japan at IDRS in Bangkok. To keep the English connection, she played, to great acclaim, Nicola LeFanu and the Rawsthorne Concerto, a work which Michael feels should be played more.
Michael says that it has been most interesting to watch the development of several players that he first heard at the Barbirolli competition: Lin Chin went on to win at the IDRS and is now a professor in Leipzig, Berlin. Sergio Sanchez also went on to win IDRS and has just been appointed Professor of Oboe in Lübeck, Matthieu Petitjean is now Principal Oboe in Monte Carlo, and of course our own Steve Hudson, Ruth Bolister and many others have gone on to good orchestral or teaching positions round the world.
Typical of their wide-ranging thoughts, it was good to hear both Michael and Hilary talking about instruments for junior players and how more needs to be done to bring young people in to playing. The fact that there are lightweight instruments being produced at a reasonable price is another credit to instrument makers including Howarth who have been innovative in this respect. Hilary said it was good to hear Catherine Millar speaking at IDRS Bangkok about her experiences in teaching mini bassoon to children from the age of six and how well they transition to full-size instruments.
Together, Michael and Hilary are remarkable supporters and friends of oboists and the instruments that they play. Having met in their youth orchestra in Sunderland, they have over many years contributed in so many ways to the world of oboe playing and not least in supporting many young players who have needed help on their journeys into playing. Talking to them both on this particular July day, it was a pleasure to savour so many aspects of the world of the oboe and oboists.